The Keālia Pond in the Keālia Pond National Wildlife Refuge on Maui has turned bright pink.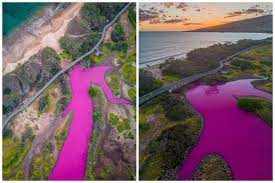 Initially, it was believed algae that thrives in water with high levels of salt may be to blame.
Researchers at the University of Hawaii at Manoa now say their preliminary findings point instead to a bacteria as the cause of the shocking pink color, not algae.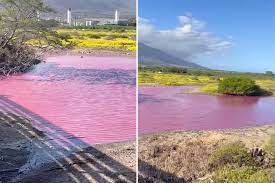 University of Hawaii researchers are working to identify the type of bacteria. The U.S. Fish and Wildlife Service is working with the state to identify the cause and a course of action to implement.
A local foundation's chief research biologist reported that the fish and birds who call the pond home do not seem to be affected by the pink water, and no large die-offs have been reported.