Frequently Asked Questions How do you keep your rates so low?
First, most of the cars Kihei Rent A Car purchases are used. That means we pay less for our cars than what the national "name" rental car agencies pay and these savings are passed down to you.
Next, our overhead is small. We own our property, buildings, cars etc. This keeps our costs down. Also, most of our business comes from our website and through word of mouth. We don't pay a lot of money for expensive televison commercials or magazine ads.
Finally, we deliberately keep our rental rates low. We could easily rent our cars for much more during the peak months, as the demand for cars far exceed what we have in stock. We feel, though, in the long run, it is much better to keep our rates low and have our customers return year after year, than just to make a quick buck. It is one of the reasons that we've been able to grow steadily all these years.

What are some of the other advantages of renting an automobile with Kihei Rent A Car?
Through our years of experience in the industry, we have found that customers who rent new cars (like those models offered by the larger mainland companies) often regret their decision. Hawaii's many terrains can be very unfriendly to automobiles. Upon returning their vehicles, rental customers often encounter hefty fines for blemished exteriors and soiled interiors as a result of touring the wild Hawaiian environs. Since our cars are used, we are not as strict when it comes to small dings and scratches. That means, you won't return to a checkout bill inflated with unexpected fines.
Beyond the wear and tear issue, deterrent from theft is another added benefit. Although Maui's crime rate is extremely low, content theft does happen and rental cars are often a target. Kihei Rent A Car's vehicles are not your typical rental car makes and models. Because they are gently worn, they blend in with the local cars on the road and are less likely to become a target, keeping you and your belongings safer.

What's your cancellation policy?
You are able to cancel for no charge up to 72 hours before your scheduled arrival.  If canceling after that, we have a $50 last minute cancellation fee.

But are your rental cars safe to drive?
Though our cars may not always be perfect on the outside, they are clean, reliable running, and maintained with extraordinary attention and routine safety evaluations, compliments of our in-house garage and certified mechanics.
If an occasional problem were to occur on the road, you can call our 24-hour roadside assistance hotline and we'll gladly come to your rescue immediately.

What about extra charges, hidden fees, discounts, etc.?
We offer an easy-to-follow rate for the day, week or month, eliminating many of the a la carte charges that other car rental companies include. There is never an additional charge for mileage, multiple drivers, or drivers less than twenty-five years of age.
Included in many of our rental packages is free, convenient Shuttle Service pick-up and drop-off. We will gladly arrange to pick you up at the Kahului airport when renting for 5 days or longer. We can do this as late as 10pm. Need help with your baggage? Our shuttle van has plenty of room for your luggage! Just ask!

Do your rates vary seasonally?
Yes!  We use to have a "Summer rate and Winter rate", but as times change so do we.  The higher the demand the higher the rate and on the flip side, the lower the demand the lower rates get.  Decemeber through March are the busiest months of the year with the snowbirds; June, July and August get busy with family's on summer break while May and September are usually the quieter months in the islands.

You are not at the airport. How do I get to your office?
We have a free shuttle service that will pick you up at the airport if you are renting a car for five days or more (see Shuttle Service Info for more information). There is a fee for shuttle service if renting a vehicle for less than five days.
Late night flights!!!  We pick up flights scheduled to land BEFORE 10PM, we wait until 1030PM for delayed flights and you must be at our van WITH your luggage by 11PM.  If your flight is scheduled to land after 10PM, flight is delayed past 1030PM or you don't have your luggage by 11PM, you will have to take a taxi on your dime to your accomodations and come to us to pick up your car the next day.

Do you have car seats or boosters?
Booster seats are available free with the rental of our vehicles. However due to limited supply, they MUST be reserved in advance. Booster seats must be used up to 4 feet 9 inches or 7 years old. We do NOT have car seats.

Do your cars have radios?
All Sentras have a working radio.  (We don't guarantee the USB port or bluetooth work)

What's the difference between you and the large national brands?
Along with offering safe, reliable used cars at unbeatable prices, we are more than just a car rental company.
Kihei Rent A Car was started by Dave and Sugar Hunkins and still run today by their kids and grandkids. So literally, the company is a family and we treat you, our customer, that way. We're proud of the close relationships with our customers, many who come back to Maui year after year.
Even if you're not interested in renting an automobile, drop us a note or give us a call if you need advice on any aspect of your next trip to the Hawaiian Islands. The staff at Kihei Rent A Car relies on feedback from our past customers, so we can offer suggestions for the perfect Maui experience. We're eager to help!!!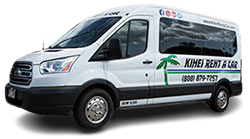 As a family-owned business, we understand the budget challenges of vacationing in Hawaii. We endeavor to offer the best, personalized service and quality vehicles, for the lowest rates we can. We sincerely want our customers to have a great experience on our island!
When you rent from Kihei Rent A Car, you'll receive great personalized service and a quality car at a reasonable price. Contact us today to make your reservation!