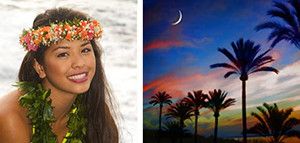 Maui is known by the locals as being "Maui No Ka Oi", which means "Maui Is The Best"… and out of all of the islands it truly is a garden paradise with beautiful beaches and tropical rain forests filled with lush vegetation and waterfalls.
The pace of Maui is slow and languid, with the day beginning with the sunrise. Many people head out to the beach early to catch the early morning surf before heading into the office. And when the sun sets, the night is dark and the stars are vivid and bright. The night comes early, and is so pitch black, that you'll find that most people here on Maui end their day early as well. Up early… and ending early. When the sun rises, the day awaits for you to explore this island beauty.
Unlike the mainland, most of the adventures to be found on Maui are mainly outdoors. They usually involve the beach, such as sunbathing, swimming, snorkeling, kayaking, surfing, stand up surfing, fishing, SCUBA diving, windsurfing… the list goes on and on. Then, further inland there is incredible hiking. Maui boasts an incredible amount waterfalls and natural pools for swimming. The island offers so much to do and see on land as well as on and in the sea.
The people of Maui strive to keep Maui pristine and undeveloped. Although sometimes it is hard to stop the progress of Man, Maui remains a beautiful island paradise and a natural playground for those seeking its beauty.
People that visit Maui often mention how they were struck by the warm tropical air filled with the smell of plumeria flowers once they come out of their airplane. And, the spirit of Aloha, is still very much alive. The Hawaiian traditions are very much alive, as well. There are many Hawaiian words that you will hear during your stay, which you may learn while here to share with the folks back home. The first one is 'Aloha'. We use it in greetings and farewells and in expressing love. But the word means even more, it is a way of life. It means a joyful sharing of life energy in the present moment. It is a powerful word, so when you say it, picture this in your mind. Aloha is more than a word… it is in essence, the Hawaiian way… the Hawaiian spirit. You will feel it, and may you also share it.