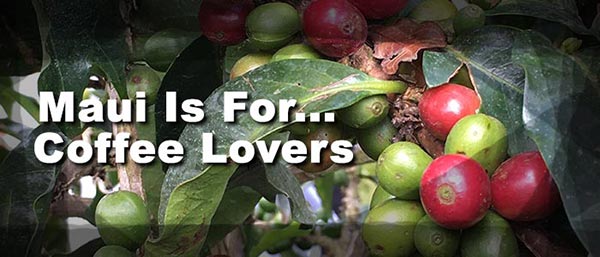 Although Americans love their java, the only U.S. state that grows coffee for commercial production is Hawaii. Coffee plants are finicky to grow. They require a tropical climate found only within a narrow window of latitude roughly 23 degrees north or south of the equator, cool but not freezing weather, higher altitude, sufficient levels of rainfall, and rich soil to thrive, making the islands a natural fit. In fact, Hawaii has been producing coffee since the mid-nineteenth century, over 100 years before it became a state. Hawaii has perfect growing conditions for coffee. And so… for coffee lovers, Maui is coffee paradise.
Kona coffee, grown on the slopes of active volcanoes Hualalai and Mauna Loa on the Big Island, is revered as not only the best in the state but among the best and most expensive coffees in the world. However, merely 10% of the beans are required to be actual Kona coffee in order to use the infamous name, so most people are tasting a blend of mostly filler coffee beans.
Maui Coffee Industry
With more than 50 coffee farms and over 500 acres in production, Maui could start giving Kona coffee a run for its money. Coffee estates are prospering all over the island from Kaanapali to Hana and Haleakala. The distinct climate and soil conditions of every area along with the different coffee varieties and processing techniques used by each farm results in an array of unique brews. Coffee enthusiasts are bound to find a Maui coffee they love.
MauiGrown Coffee
MauiGrown Coffee is the biggest commercial farm on Maui and majority producer of 100% Maui origin coffee in the world. MauiGrown Coffee comes from Kaanapali Coffee Farms located on the West Maui Mountains, about four miles north of the historic town of Lahaina.
The farm was originally part of the Pioneer Mill sugar plantation, which had been farming the land since 1860 and diversified it from sugar cane into coffee in 1988. Pioneer Mill Company and Kaanapali Estate Coffee closed their operations in 2001, but decided to leave the irrigation in place so the trees could stay alive.
James "Kimo" Falconer, the director of agricultural research for Pioneer Mill, dreamed of reviving the coffee farm one day. Falconer started MauiGrown Coffee, Inc. in 2003 and worked hard to realize his dream, harvesting the first MauiGrown Coffee crop in 2004.
MauiGrown Varieties
MauiGrown cultivates four varieties of arabica coffee: Maui Mokka®, Guatemalan Typica, Yellow Caturra, and Red Catuai. MauiGrown's natural-processed coffees have been dried inside the fruit instead of after the fruit has been removed. The cherries are wet processed, using water to remove the fruit from the seeds, resulting in a clean, vibrant taste.
Maui Mokka® is made from small, roundish beans grown from a 1,000 year-old heirloom strain originated straight from Ethiopia, home of all coffee in the world. The yield is low and the tiny size makes the crop difficult to harvest, but all the effort is well worth it, resulting in a full-bodied cup with low acidity and complex tones of chocolate with undertones of wine and ripe fruit. Nicknamed the "champagne of coffee," Maui Mokka® took first place in a field of 77 entries in the 2014 Hawaii Coffee Association's Statewide Coffee Cupping Competition. It grows best at 500 to 600 feet elevation, and harvest usually runs from October through December.
Guatemalan Typica is the variety that makes up most Kona coffee. MauiGrown's Typicas possess many of the same features of the Kona Typicas, mild acidity, low to medium body, velvety texture, and a lively yet clean coffee taste. Certain MauiGrown Typicas are planted at approximately 600 feet elevation but most are over 900 feet and are harvested late in the year or early in the new year.
Yellow Caturra turns yellow instead of the standard red color when it is ripe. It flourishes in hot, drier conditions and is not usually planted in other coffee producing countries. Yellow Caturra is lower in acidity with a mild flavor that can offer a subtle spiciness as a dark roast and enhances other varieties such as the Typicas. It is the first crop to ripen with harvest normally beginning in September.
Sometimes referred to as the "cabernet of coffees," Red Catuai offers robust yet bright flavor at a medium roast. Full body with a hint of sweetness and lower acidity happens at a darker roast. Red Catuai also performs well in hot, dry conditions and is harvested late in the fall.
Tastings and Tours
To try Maui coffee for yourself, stop by the MauiGrown Coffee Company Store. The friendly employees are happy to explain the differences in each variety and let you taste samples. Green coffee and roasted MauiGrown coffee as well as coffee from other parts of Maui and Kona coffee are all available for sale.
If you are looking for a coffee tour, O'o Farm in Kula is the place to go. Sustainably maintained and biodynamically cultivated, O'o Farm grows Hawaiian coffee, fruits, veggies, herbs, and flowers that supplies Lahaina eateries Pacific'O, The Feast at Lele, and Aina Gourmet Market to create a true farm to table experience.
O'o Farms' Aina Gourmet Coffee is a single origin coffee that is grown, roasted, and brewed right on the farm. The "Seed to Cup" Coffee and Breakfast Tour allows guests to explore the process of growing, harvesting, roasting, brewing, and tasting gourmet coffee in the stunning Upcountry region of Maui, far from the tourist scene. The tour begins with an up close introduction to the coffee tree and an opportunity to taste the coffee cherry and ends with a farm fresh breakfast.
Aina Gourmet Coffee is also available at Aina Gourmet Market, a local foods marketplace with a full coffee bar located in the lobby of Honua Kai Resort and Spa.
Not on Maui? No problem! Both Aina Gourmet Coffee and MauiGrown Coffee are available for purchase online.