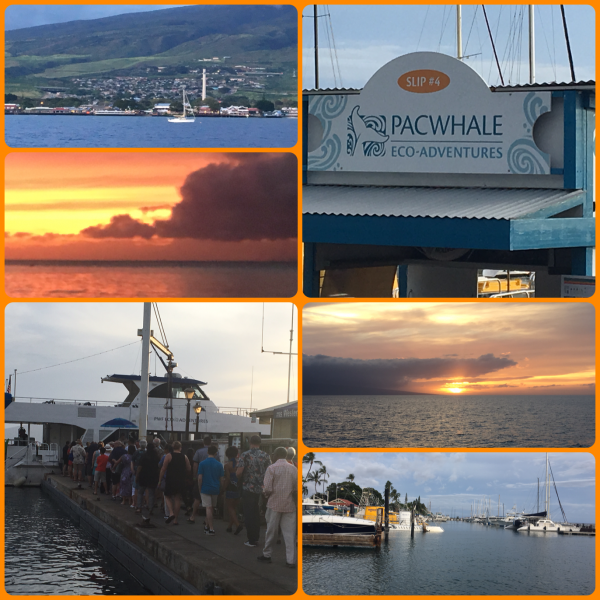 Lahaina is a great place to watch the sunset from. Being out on a boat in the waters of Lahaina is an even better place to watch the sunset from. A sunset dinner cruise is a great way to be in the right place at the right time.
I had the great pleasure of going on Pacific Whale Foundation's Sunset Dinner Cruise from Lahaina Harbor. We were served a four course meal that was fabulous! The food was great and the service was fantastic. Oh, and the sunset wasn't bad either 🙂
Cruising along, listening to music, being served healthy food and island cocktails, and meeting new friends was a really fun way to spend a Saturday evening.
There are many sunset dinner cruises on Maui. Since there are so many great chefs on the island, the food is always outstanding. The harbors that the cruises leave from are Maalaea and Lahaina. If you are not staying on the west side of the island, the traffic can be slow going from central Maui to west Maui in the afternoon. You might want to go earlier in the day and spend some time in Lahaina town or Kaanapali beach beforehand.
I'm always so impressed with the service onboard Maui snorkel, sail, and dinner cruises. The staff seems to have two main focuses; safety and service. The captains are very attentive to every guest and their specific needs. You're gluten free; no problem, you get a special meal. Not comfortable walking around on a boat; no problem, stay where you are and the boat will change route so you can see the sun setting into the ocean. On and on it goes; exemplary service with a smile.
Here's to setting sail on Maui's beautiful vessels that travel over wild and beautiful waters.
Ahoy thar matey!