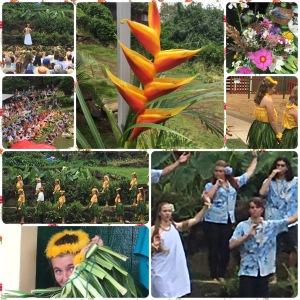 You may have noticed that there are even more beautiful flowers than usual during the month of May on Maui.  Lei Day is celebrated during the first week of the month. Officially May 1st is Lei Day, but many hula halaus and schools celebrate Hawaii's version of May Day sometime during the first week.
Keiki practice for weeks to participate in their all school festivals. Students present their hula dances to the parents and community during these very colorful, joy filled celebrations.
Hula halaus share their well rehearsed performances at outdoor malls and block parties. The dancers' costumes always include an abundance of flowers.
In mid May, Mother's Day flower bouquets are delivered to thousands of appreciated Maui moms.
Then, at the end of the month, it's time to celebrate our graduates. Families and friends proudly pile lei on their graduating middle school, high school, and college students. There is no such thing as too many flower lei for those moving on to the next chapter of their lives. Graduates range from kindergartners to college PHDs. And they all get flowers and lei.
Maui florists like Maui Bloom are scrambling to order, stock and deliver thousands of baskets, bouquets, and lei. The flowers are from Maui growers as well as other Hawaiian island flower companies.
From the 1st to the 31st, flowers are flowing into Maui homes, hotels, schools and offices. And with flowers come love and joy and happiness. May truly is a beautiful month here on Maui. Happy Lei Day, Mother's Day, and congratulations to all of you Maui graduates! We are blessed by this beautiful, abundant island!