Kihei Rent A Car Race Team at Paradise Speedway Maui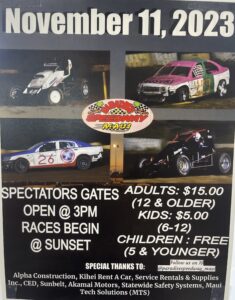 Stock car circle racing on a dirt track typically refers to a type of auto racing where modified production cars, often referred to as "stock cars," compete on oval-shaped tracks covered with dirt rather than asphalt. This form of racing is popular in many parts of the United States and has a rich history in American motorsports. Here are some key features and aspects of stock car circle racing on dirt tracks:
Stock Cars: Originally, stock cars were ordinary cars that were minimally modified for racing. However, over time, these cars have evolved into specialized racing machines with safety features, performance enhancements, and modifications specific to the demands of dirt track racing.
Dirt Tracks: Unlike traditional asphalt tracks, dirt tracks are made of dirt or clay. The surface is often watered and packed down to create a racing surface that can change throughout an event, providing different challenges for drivers. Dirt tracks can range in size and shape, from small bullrings to larger oval tracks.
Oval Racing: The tracks used in this type of racing are typically oval-shaped, and drivers navigate the turns, straights, and curves of the track. Oval racing on dirt requires a different set of skills compared to racing on paved surfaces, as the track conditions can change rapidly, affecting the car's handling.
Sliding and Drifting: Due to the loose and unpredictable nature of dirt surfaces, drivers often engage in controlled slides and drifts to maintain control of their cars through turns. This makes dirt track racing visually exciting and adds an element of skill and finesse for drivers.
Classes and Divisions: Dirt track racing features various classes and divisions, each with its own set of rules and specifications for the cars. Common classes include Late Models, Modified, Sprint Cars, and others, each representing different levels of performance and design.
Local and Regional Racing: While there are national dirt track racing events, much of this type of racing occurs at the local and regional levels. Many racetracks are community-based, and drivers often build reputations within their local racing circuits.
Fan Engagement: Dirt track racing tends to have a strong fan base, with spectators often enjoying a close-up and visceral experience as the cars kick up dirt while racing around the track. The grassroots nature of these events can create a sense of community among fans and participants.