Twin Falls is a popular hiking destination located here on Maui.
Like Kihei Rent A Car, it is privately owned and operated.
Twin Falls is not a state park nor does it receive any government funding.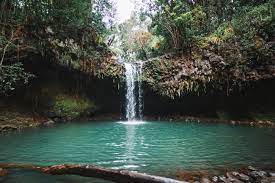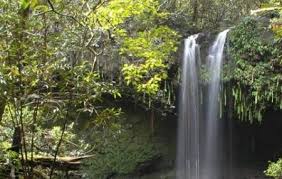 The falls are situated in a lush, tropical rainforest and are made up of two separate cascading waterfalls. The first waterfall, which is the larger of the two, is around 80 feet tall and is a popular spot for swimming and picnicking. The second waterfall, which is smaller, is around 40 feet tall and is often used as a backdrop for photography.
The hike to Twin Falls is considered a moderately challenging route, with a well-maintained trail that winds through the rainforest. It's only 2.6 miles out and back on a soft path through mossy trees and ferns. It takes an average of 53 min to complete. Along the way, hikers can enjoy the beautiful scenery, including lush vegetation and a variety of native plants and birds.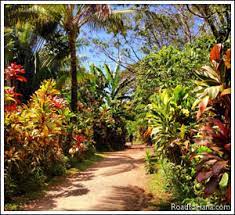 It is best to visit Twin Falls early in the morning or later in the afternoon to avoid the crowds and the heat of the day. The trail can be slippery after rain, so be sure to wear appropriate footwear.
Twin Falls Directions and Parking Notice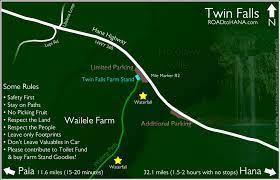 Take the Hana Highway east past Paia Town.
Drive for 15 to 20 minutes past Paia Town.
Around Mile Marker #2 you'll see a bridge. To the right of the bridge will be a large dirt parking lot with a fruit stand. This is the ONLY parking area available.
The additional parking lot is closed due to construction. DO NOT PARK ON SHOULDER OF HANA HWY.
The entrance to Wailele Farm and Twin Falls is just to the left of the farm stand.
There are only 55 paid parking spots available.
Your car must be in Twin Fall's parking area to access Twin Falls.
Paid parking is $10 per car.
No parking anywhere on Hana Highway.
No parking in other side of the twin falls bridge.
No U-turns.
No parking on the bridge.
No stopping or waiting allowed on the side of the highway because it causes a traffic hazard and may cause an accident.
Twin Falls is a perfect spot for visitors who are looking for a way to enjoy one of Maui's many waterfalls safely. With its crystal clear water and lush tropical surroundings, it's a great place to spend a relaxing afternoon. Twin Falls Maui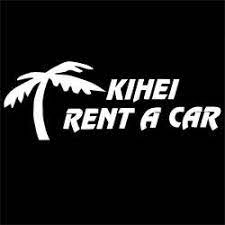 TIP: The no parking along Hana Highway is enforced all along the road to Hana. This is a relatively new rule so it's being enforced regularly. Get on the road super early so you can be one of the 55 to get a parking spot at Twin Falls. The parking lot is also not as full in the late afternoon. Don't leave any valuables in your cars. Break ins are known to occur.