Peaceful Napili Bay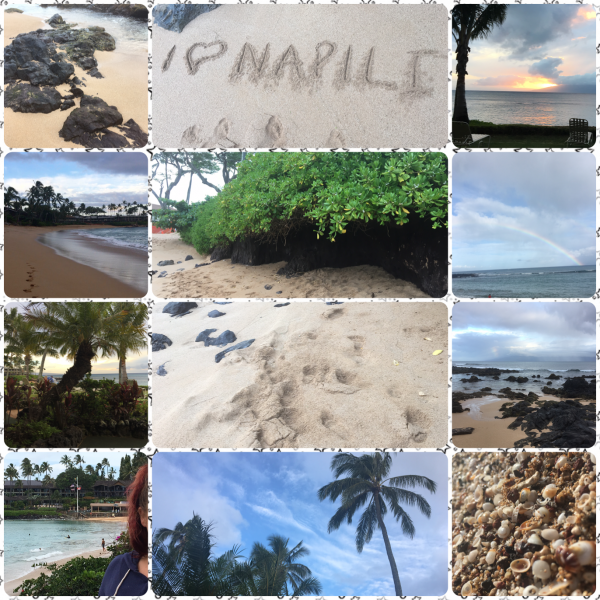 There are some places that you just love, and you're not sure why. Well, maybe you know why, but it's more of a feeling than anything. Napili Bay is that kind of place for me.
I recently took one of my daughters for her 16th birthday celebration weekend to Napili. Before we checked into our cute beachfront studio, we stopped at the nicest market for groceries. I love those small, clean, service oriented stores that make it feel like "the olden days". The prices were current though:)
We checked into Napili Sunset and set off to the pool and then the beach. Everything was so clean and fun and relaxing. Right at sunset we decided to go over to nearby Kapalua Bay. That's a very beautiful beach too. There were 5 weddings happening at sunset! Glad it wasn't raining.
The next day we had a fantastic breakfast at The Sea House Restaurant right on Napili Bay. This is by far one of my favorite places to eat on Maui. It's literally right on the beach! The food is awesome too.
We had a couple of hours before our noon check out time. We did yoga on the lanai and listened to inspiring music. It was then that I realized why I like Napili Bay so much.
When I was 18 my parents brought me to Maui for the first time. We stayed at Napili Bay. I rented a board and literally body boarded from morning to evening. I never wanted to leave! When our plane took off to leave Maui that trip, I cried. Saying goodbye to the blue ocean waters was so sad.
The waters of Napili Bay are just as blue as they were when I was 18. You can body surf, bodyboard, snorkel, swim and paddle board at this great bay. And the cool thing is, there are many more beautiful, special, peaceful bays on Maui. So hop in your Kihei rental car and head for a day at Napili Bay. Maybe I'll see you there 🙂