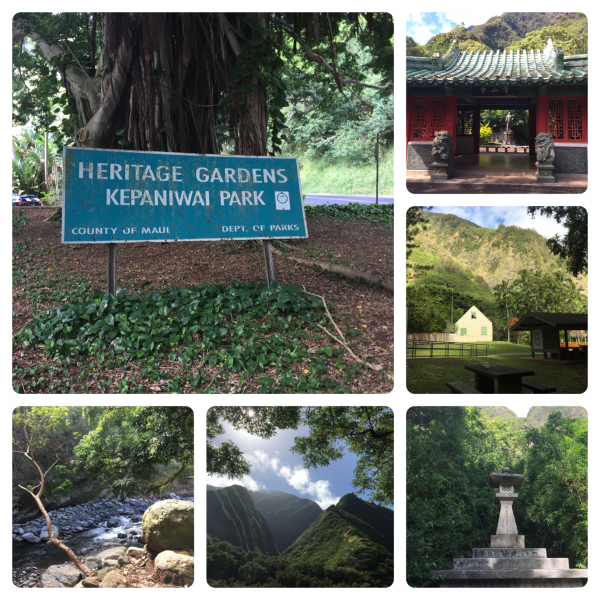 After a year of stream and infrastructure work, Iao Valley State Park is open again. Maybe you have been to this lush valley in central Maui before.
But, have you ever stopped at the park just before you get to the entrance of Iao Valley State Park? Heritage Gardens, or Kepaniwai Park, is worth spending some time at. Iao stream runs along this park where you can wander along pathways or picnic in open air pavilions. The huge boulders lining the stream are smooth and warm. The water is fresh and cold. It's fun to just hang out and watch the kids and dogs playing in the rushing water. Since it's a valley, and the light is always changing, photos turn out really nice.
This charming county park in central Maui includes various ethnic displays memorializing the different cultures that have played a role in the history of the Hawaiian Islands. The memorials include traditional Hawaiian dwellings as well as the traditional homes of the people who came from Portugal, China, New England, the Philippines, and Japan. The park also includes memorial Gardens from the various represented cultures. The site was completely restored in 1994 and is now a wonderful showcase of important Hawaiian history.
It's a short drive from south Maui to this central Maui valley. And a great place to spend and hour in the morning before the clouds roll in. After your morning in the valley, you may want to have a delicious bite to eat at 808 on Main or Wailuku Coffee Company at 26 N Market Street. Both places have good food, coffee, vibes and free parking nearby.