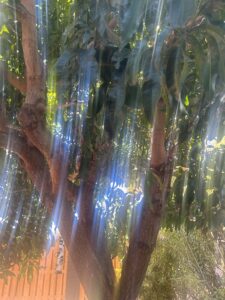 Mangoes are known for their sweet and juicy flavor, and Maui mangoes are no exception. They are typically in season during the summer months and are enjoyed by locals and visitors alike.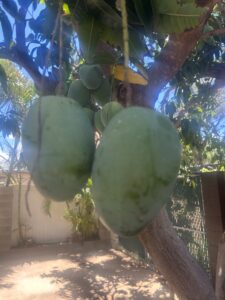 Mangoes, in general, are a rich source of vitamins, minerals, and antioxidants, making them a healthy and delicious snack option. They can be eaten fresh, sliced, or blended into smoothies. Additionally, mangoes are used in various culinary dishes and desserts, adding a tropical touch to many recipes.
From refreshing drinks to savory dishes and sweet treats, here are some delicious recipes featuring mangos: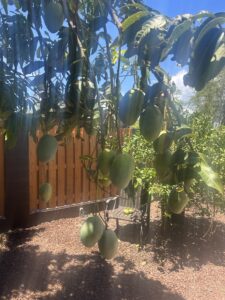 MANGO SALSA:
Ingredients:
2 ripe mangos, diced
1 small red onion, finely chopped
1 red bell pepper, diced
1 jalapeño, seeds removed and finely chopped
1/4 cup fresh cilantro, chopped
2 tablespoons fresh lime juice
Salt and pepper to taste
Instructions:
Combine all the ingredients in a bowl and mix well. Refrigerate for at least 30 minutes before serving. This mango salsa goes wonderfully with grilled chicken, fish, or as a dip for tortilla chips.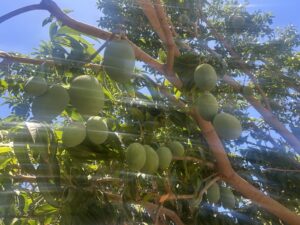 MANGO CHICKEN CURRY:
Ingredients:
1 pound boneless, skinless chicken breasts, cut into bite-sized pieces
2 ripe mangos, peeled and diced
1 can (14 ounces) coconut milk
1 onion, finely chopped
2 cloves garlic, minced
1 tablespoon curry powder
1 teaspoon ground turmeric
1/2 teaspoon ground cumin
1 tablespoon vegetable oil
Salt and pepper to taste
Fresh cilantro for garnish
Cooked rice for serving
Instructions:
In a large skillet or pot, heat the vegetable oil over medium heat. Add the chopped onion and garlic, sauté until softened. Add the chicken pieces and cook until browned on all sides.
Stir in the curry powder, turmeric, and cumin, coating the chicken evenly. Pour in the coconut milk and bring the mixture to a simmer. Cook for about 15 minutes until the chicken is fully cooked and the sauce thickens slightly.
Add the diced mango to the curry and cook for an additional 5 minutes. Season with salt and pepper to taste. Serve over cooked rice and garnish with fresh cilantro.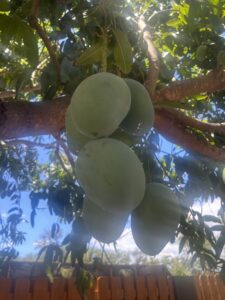 MANGO SMOOTHIE:
Ingredients:
2 ripe mangos, peeled and chopped
1 ripe banana
1 cup plain Greek yogurt
1/2 cup orange juice
1 tablespoon honey (optional, depending on the sweetness of the fruits)
Ice cubes
Instructions:
In a blender, combine the chopped mangos, banana, Greek yogurt, and orange juice. Blend until smooth and creamy. If the smoothie is too thick, add some ice cubes and blend again. Taste and add honey if you prefer a sweeter smoothie. Pour into glasses and enjoy!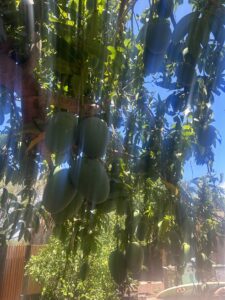 MANGO STICKY RICE:
Ingredients:
1 cup glutinous rice (sticky rice)
1 1/2 cups coconut milk
1/2 cup sugar
1/4 teaspoon salt
2 ripe mangos, peeled, pitted, and sliced
Toasted sesame seeds (optional) for garnish
Instructions:
Rinse the sticky rice until the water runs clear. In a saucepan, combine the rice, 1 cup coconut milk, sugar, and salt. Bring to a boil, then reduce the heat to low, cover, and let it simmer for about 15-20 minutes or until the rice is tender and has absorbed the coconut milk.
In a separate saucepan, warm the remaining 1/2 cup coconut milk.
Serve the sticky rice with sliced mango on top and drizzle the warm coconut milk over it. Garnish with toasted sesame seeds for added flavor and texture.

Next time you rent a car from us make sure to check out if we have any seasonal fruits or vegetables on the counter. Depending on the time of the year, our Kihei Rent A Car Ohana brings in extras from their backyards. You might find bananas from Hana, lychee from Wailuku, lemons and limes from Kahului, avocados from Keokea or mango from Kihei.
We love sharing locally grown fruits and vegetables with our awesome customers. It's just a small way of saying Mahalo Nui Loa for supporting our local business!