A few weeks ago the hula girl in the back row below shared this very old picture with me. Sandi was one of our first rental agents at our Kukui Mall location. Although she went on to have her own successful businesses in Kihei, we are still friends and once in awhile reminisce about "back in the day" when Kihei Rent A Car was still a baby. During those "old days" we all learned so much about work ethics and integrity, and focused on taking the best care of our customers.
This workplace energy still lives in all of us!
Since day one my dad, Dave Hunkins, was focused on taking care of the customers and the employees at Kihei Rent A Car. No matter if we had a fleet of 25 Chevy Sprints (see newspaper clipping below) or 450 vehicles, like we currently have, Dave stayed focused and taught his daughters to stay focused on being of service to anyone who rents our cars, supplies our products and services, and who works at the company. Heck, he even taught us to drive someone to our competitor if they wanted to rent a brand new car rather than the used cars we have always rented. He really gave a s+@"t about EVERYONE!  With this kind of atmosphere and uplifting energy Dave created a business that carries on the same values and standards generation after generation. Even the 3rd generation of owners and the second generation of employees (yes, we have a long time employee who's sons work with us now too!) know that our customers are our main focus.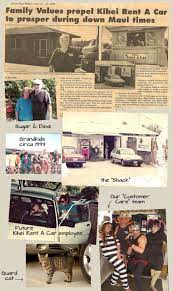 No matter what generation of the family is running the business, what location we are operating out of, which cat is sitting on the counter, or who works on Halloween; all of us at Kihei Rent A Car strive to be the best family owned and operated rental car company in town.