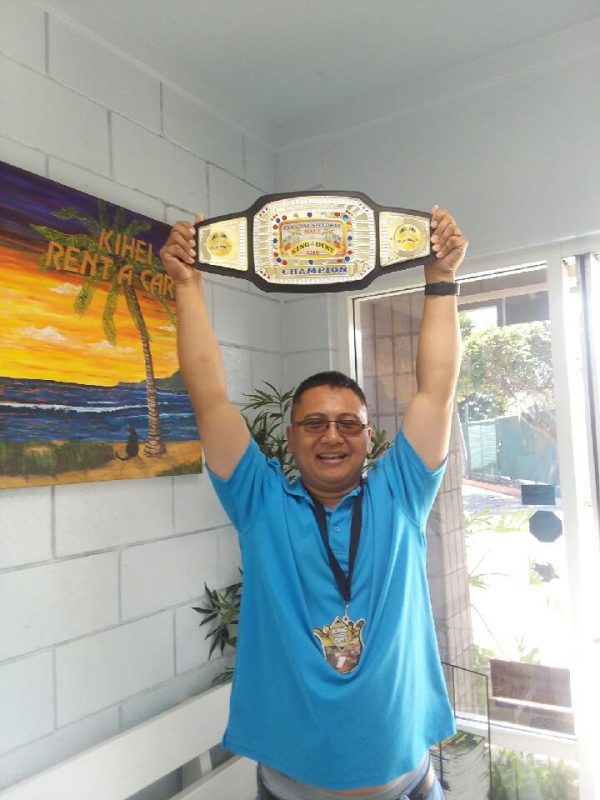 Kihei Rent A Car's Racing Team Dominated the 2018 Circle Track Season. Mike Dela Cruz won this season's King of the Dirt with Marj Hunkins only 20 points behind, winning second place. These two Kihei Rent A Car racing team members battled it out all season. These excellent racers were extremely close in every race.
Being on the same racing team does not mean either Mike or Marj let down their guard or gave the other person a chance. They kept the pedal to the metal from green flag to checkered all season long.
The final race during Labor Day weekend was exciting for the Paradise Speedway Maui fans. The Kihei Rent A Car pit chief, Dean Kikuyama, said "This was the closest race all season".
These awesome racers make it look so easy. In reality it's very challenging, especially when the track has ruts that can easily pop your tires. According to Marj Hunkins, "This weekend's track prep was great! It was so smooth and rut-free." She said, "The only way to win is to be aggressive and go for it." Having good track conditions makes it easier to be aggressive.
I asked Marj what it's like to be a dirt track race car driver. She said you have to be able to make split second decisions. Deciding to pass another car could lead a driver to hit another car, a tractor tire that lines the track, or cause a huge crash. But she also said the best part of this kind of racing is it's ok to hit other cars. "When you are driving on the roads of Maui, you have to be a defensive driver. Out on the dirt track you don't have to be so defensive."
Both Mike and Marj have worked very hard to be such good race car drivers. So much goes into preparing and maintaining the cars. We are all very proud of them for putting so much into their passion and going for it out on the track!