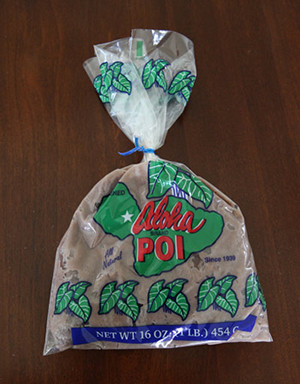 Anyone who has been to a lu'au has probably had the chance to try some Hawaiian poi. For many newcomers, they find it to be rather "interesting" and many describe the taste as subtle or even a little bland. Everyone has their own set of taste buds, but most kama'aina will agree that poi is both yummy and very nutritious.
It can be eaten by itself, or you can eat it with poke or kalua pig, or even lomi lomi salad. It takes the place of rice, potatoes, or bread. Many Hawaiian mothers feed their infants poi because of its nutritional value. Poi is good for everyone, young and old. It's a great source of fiber and vitamins and minerals such as vitamin C and B-1, iron, magnesium and potassium. Another good thing is that poi won't make you fat, with fewer calories than rice (one cup of ready-to-eat poi has 120 calories; one cup of cooked rice has 250 calories).
But… just what is this gooey purple pudding-like paste? The ancient Hawaiians revered poi, and today Hawaiians continue to praise the benefits of poi. It is made from the popular taro plant. The corm of the plant is mashed down methodically while slowly adding water until it turns into a nice gooey paste. Fresh poi has an almost sweet flavor to it, while 3 or 4 day old poi tastes a little more sour because of the fermentation process.
If you're new to poi, give it a try. Traditionally, it was eaten with two or three fingers. These days, go ahead and use your fork or chop sticks. Try it by itself, then try it with a piece of poke or kalua pork. The flavor of the other foods will bring out the flavor of the poi, and most likely you like be hooked.